FireBeetle Covers-Gravity I/O Expansion Shield
We can get 53 units in Australia from DFRobot. If you order today, we can dispatch this stock between Jul 17, 2020 - Aug 03, 2020.
DFRobot FireBeetle series is the low-power consumption micro-controller intentionally designed for Internet of Things (IoT). The series micro-controllers aims at IoT node of low-power consumption, attending to build the IoT hardware platform quickly and conveniently. There are three types of FireBeetle, containing Boards (main control), Covers (expansion boards) and related Accessories. FireBeetle Covers-Gravity I/O Expansion Shield is an adapter for Gravity sensors and modules. With this shield, you can achieve convenient connection between Gravity sensors and FireBeetles. Every sensor will have its independent power pins.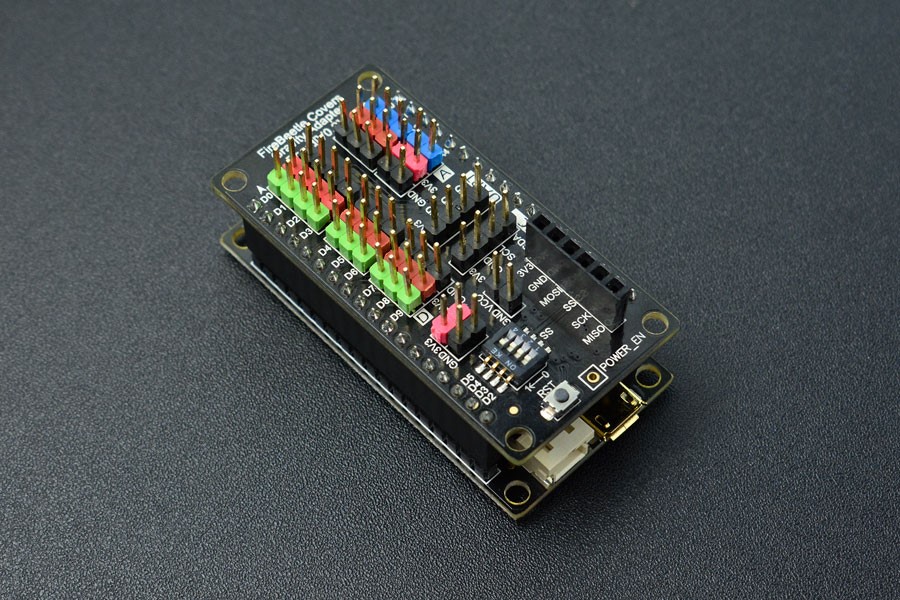 FireBeetle Gravity I/O Expansion Shield
Note: Please pay attention that the working voltage is 3.3V only. (Red pins)
FEATURES
DFRobot FireBeetle Compatible
Gravity interface, plug and play, easy to use
Cost-effective
Small size, convenient to install
SPECIFICATIONS
Input voltage: 3.7V~5.5V (VCC)
Output voltage: 3.3V
Supports low-power consumption Mode: POWER_EN = LOW
Support maximum discharge current: 600mA(Output voltage: LDO-3.3V )
Interface: Gravity standard interface
Digital I/O Pins: 10
Analog Input Pins: 5
Supports I2C x1
Supports UART x1
Supports SPI x1
Dimension: 29.00x58.00mm/1.14 x 2.28ches
DOCUMENTS
SHIPPING LIST
FireBeetle Covers-Gravity I/O Expansion Shield x1
18 pin-2.54mm pin x2
18 pin-2.54mm long pin header x2