DE-LIDAR TF01 (ToF) Laser Rangefinder (10m)
We can get 2 units in Australia from DFRobot. If you order today, we can dispatch this stock between May 10, 2021 - May 27, 2021.
DE-LIDAR TF01 is a unidirectional laser rangefinder, which based on ToF (Time of Flight) technology. It is comprised of particular optical and electrical devices that makes it stable, high sensitivity and high precision. ToF is the abbreviation for Time of Flight. This is a distance measurement method that measure the time that it takes for an object. The distance value between object and sensor is easy to get by calculating the time difference or phase difference between emission and reflection, so does the in-depth information.
Figure 1: TF01 Optical Stimulation Light Path
The protection design of the TF 01 is based on the IP 65 level, which prevents it from the dust, water, and corrosion. It is anti-interferential from the strong light outdoors. It can work under 100K lux light without the interference from the temperature, humidity, light, electronics and airflow. High sensitivity, measuring distance up to 10 meters, accuracy in cm level.Scan frequency up to 500Hz, real-time detection of distance with a 500 times/second refresh rate for more accurate data. TF01 has a complete system, containing a protective shell made of materials with a high transmittance of infrared, which doesn't affect the optical performance.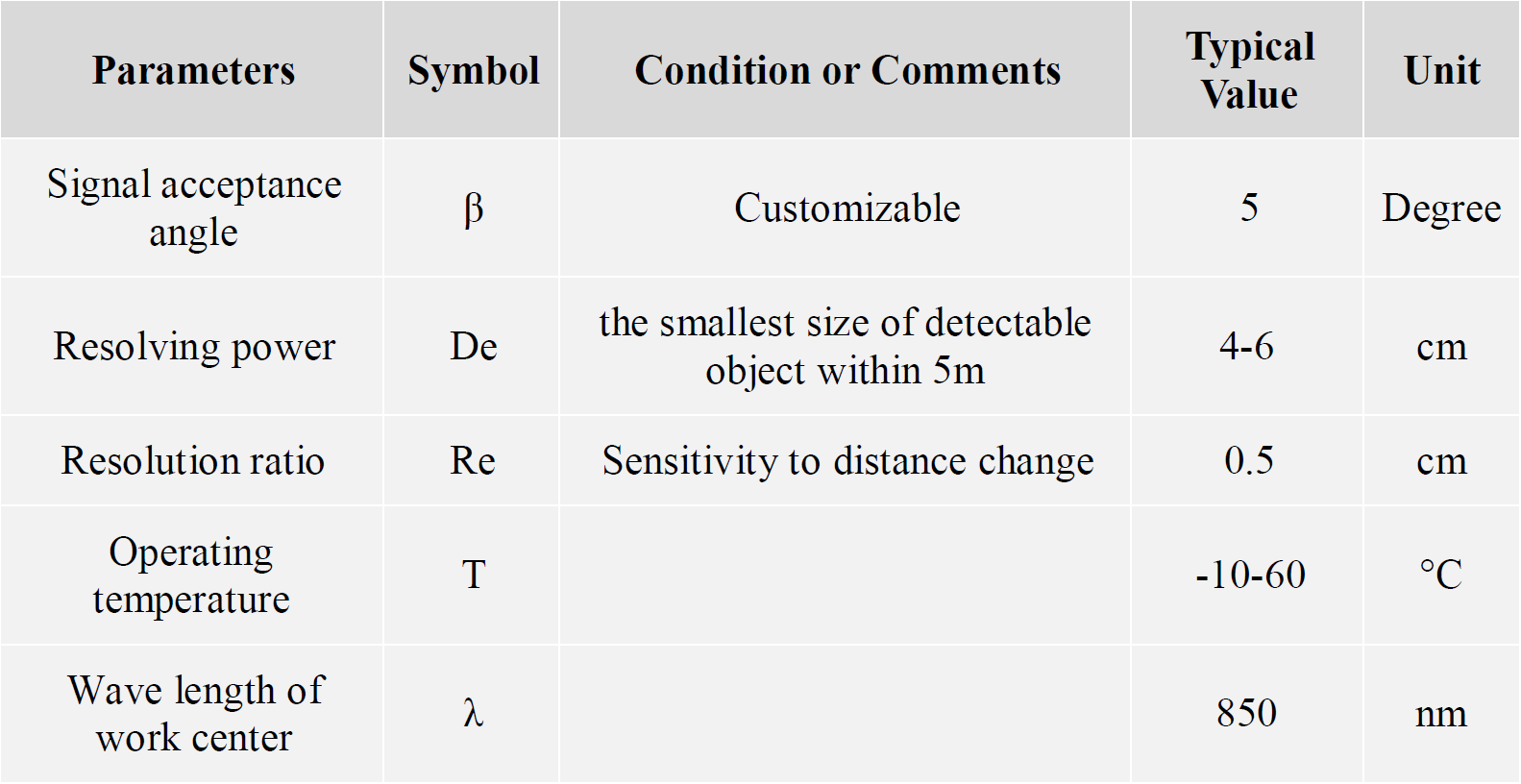 Table 1: Optical Properties
Note: This is a pre-order product. We will start the delivery one month later from the date you place the order.
FEATURES
Unidirectional ranging LiDAR
Detection range: 10m
High sensitivity & High precision
500Hz high-frequency sampling
Time of Flight (ToF) technology
IP Grade: IP63~65
Anti-light interference: work under 100kLux ambient light


APPLICATIONS



 
Height fixing of drones, terrain following
Machine control, security sensor
Distance measurement


SPECIFICATIONS



 
Detection Range: 0.3-10m
Accuracy: Centimeter-level (1% Relative error)
Measuring Speed: Default 100Hz (maximum: 500Hz)
Protection level: IP63-IP65
Light Resistance: Operate under ambient light of 100 kLux
Power: 5VDC, <200ma
Power: <1 W
Interface: UART/CAN
Weight: 55g


DOCUMENTS
 

Datasheet Demo Program Resource Download


SHIPPING LIST
 

DE-LIDAR TF01 Laser Rangefinder (10m) x1