DC-DC Boost Module (0.9-5V)
We can get 28 units in Australia from DFRobot. If you order today, we can dispatch this stock between Jun 05, 2020 - Jun 22, 2020.
INTRODUCTION
This is a small DC - DC boost module that converts a 0.9 ~ 5v power source to standard 5V, making it capable of supplying power to an Arduino microcontroller and other small electronic devices that use a 5v input. It integrates a PFM DC-DC boost control chip. The maximum output current is up to 500 ~ 600 mA. There are two power input ports, PH2.0 and KF235-3.81-2P which are compatible with DFRobot's 3.7 V lithium battery.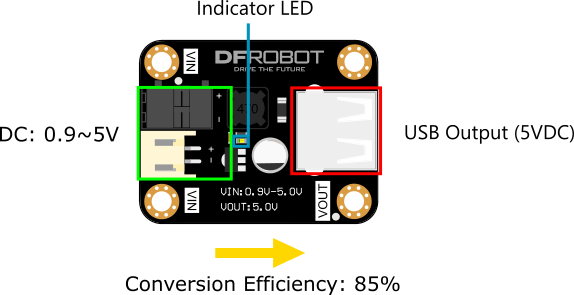 Note: Please pay attenetion to the battery polarity when connecting the battery.
SPECIFICATION
Input Voltage: 0.9 V to 5 V
Output Voltage: 5 V
Conversion Efficiency: 85% (Typ.)
Duty ratio coefficient: 66% to 78%
The input interface: PH2.0; KF235-3.81-2P
Output interface: USB
Size: 43 * 33 mm/ 1.69 * 1.3 inches
Weight: 14g